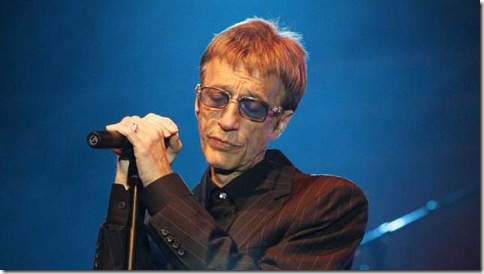 From Twitter:
Brian Wilson (Beach Boys): Robin was 'part of the family'. I love the Bee Gees voices, they're some of my favorite singers. I am so sad.
Lenny Kravitz: Another legend passed. My deepest sympathy to the Gibb family. The Bee Gees are the soundtrack to an iconic era that shaped a world wide phenomenon and culture. Their rhythms, melodies,and production is one of a kind and instantly warms the heart. Respect Lenny
Liam Gallagher (Oasis): ROBIN GIBB LEGEND LG
Peter Frampton: So sorry to hear Robin Gibb has lost his battle with cancer. My heart goes out to the entire Gibb family at this very sad time. RIP
Elton John: Elton John dedicates 'Don't Let The Sun Go Down On Me' to Robin Gibb at a recent concert in Las Vegas
Duran Duran: Sorry to hear about the passing of Robin Gibb of the BeeGees. Our condolences to his friends and family:
Bryan Adams: Robin Gibb RIP. Very sad to hear about yet another great singer dying too young.
Justin Timberlake: We have lost a truly brilliant musician today. One of my idols. My heart goes out to the Gibb family in this time of sorrow...RIP Robin.
Ronan Keating: Just heard about Robin Gibb. I am devastated. Can't believe it. May he rest in peace. My thought and prayers are with his family. X
Diane Warren: Bee Gees have written some of the best songs in pop music history. #RIP Robin
Nile Rodgers: "Got the wings of heaven on my shoes, I'm a dancing man and I just can't loose" ~Bee Gees~ Robin Gibb RIP
Mick Hucknall (Simply Red): RIP Robin Gibb. A musical giant.
Gary Barlow (Take that): I'm so sad to hear Robin Gibb has passed away.Such a great loss.His music will out live us all.
Heart: Bless the Brothers Gibb. Their family blend inspired many harmonies in the back of vans full of traveling...
Richard Marx: Robin Gibb RIP. The Bee Gees were so important to pop music. Huge loss.
Bruno Mars: R.I.P Robin Gibb
Skin (skunk anansie): R.I.P. Robin Gibb, I LOVE the BeeGees music, amazing songwriters, great voices, beautiful stories.

The script: _ R.I.P. Robin Gibb. We met Robin+Barry in NY. Such a lovely guy. Prayers 2 his family. 2 many Legends being taken from us 2 early :(
The Doors: We send our condolences to the family and fans of Robin Gibb of the Bee Gees, who passed away today.
Hanson: So sad to hear of the loss of The Bee Gee's, @RobinGibb, Another legend lost. Our hearts go out to Barry Gibb and Robin's entire family
Paula Abdul: The Bee Gees were & are music legends. my thoughts & prayers are w/ Robin Gibbs' family & friends. xoP
Kim Wilde: I toured with Robin Gibb in Germany.Always a true gentleman.He has left us an amazing legacy.
Chris de Burgh: So sorry to hear of the death of Robin Gibb, who was hugely influential in the writing and performing of modern popular music....
Jermaine Dupri: BEE GEES ~ LOVE YOU INSIDE OUT ~: RIP ROBIN GIBB,MY FAVORITE BEE GEES RECORD BY FAR, "LOVE YOU INSIDE OUT"
Boy George: So sad to hear about the loss of Robin Gibb, my prayers to his loved ones! R.I.P.
Peter Andre:I am so absolutely gutted about Robin Gibb passing away . One of the true musical legends whom I was honored to be friends with . RIP
---

&nbsp
N.B.
- La possibilità di inserire commenti è
momentaneamente
disabilitata. Sarà ripristinata al più presto.