Barry e Robin: TV ed interviste per promuovere "Ultimate Bee Gees"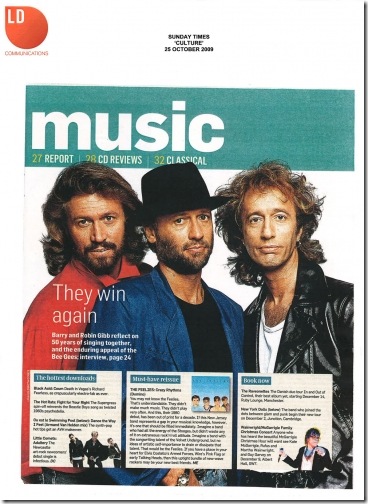 Barry e Robin Gibb hanno programmato una serie di apparizioni televisive (delle quali alcune in diretta dal vivo) ed una serie di interviste in concomitanza con l'uscita della raccolta "Ultimate Bee Gees", prevista per il prossimo 2 novembre. Lo scorso 24 ottobre l'edizione domenicale del quotidiano inglese "Times" (Sunday Times) ha pubblicato un'intervista ai due fratelli. L'intervista (ed un sondaggio) è disponibile su timesonline.uk
Si inizia Il 31 ottobre con la presenza nella popolare trasmissione televisiva inglese "Strictly come dancing", in onda su BBC1 a partire dalle 19.50. La trasmissione dovrebbe essere disponibile tramite l'iPlayer del sito della BBC ( http://www.bbc.co.uk/programmes/b00mbyy0 ) . Barry e Robin canteranno dal vivo in diretta "You should be dancing".
Il giorno 1 novembre i fratelli Gibb appariranno sulla CBS, nel corso del programma "Sunday Morning", che prevederà una sezione dedicata ai Bee Gees, con un'intervista (registrata) a Barry e Robin.
Il 3 novembre sarà la volta di due interviste televisive trasmesse in Inghilterra. La mattina si inizia con la televisione inglese ITV, sul canale GMTV (l'intervista sarà poi disponibile sul sito web del canale televisivo ( http://www.gm.tv/ ) . Durante il pomeriggio SKY UK trasmetterà un'altra intervista con i due Gibb. Si tratta in entrambi i casi di interviste pre-registrate.
Un'altra apparizione (questa volta dal vivo ed in diretta TV) è prevista il 17 novembre,  quando Robin e Barry si esibiranno nel corso del seguitissimo show della televisione americana ABC, "Dancing with the stars".
Il 18 novembre la televisione tedesca Kabel Eins dedicherà la popolare trasmissione "Number One!" ai Bee Gees, e nel corso del programma sarà trasmessa una intervista (registrata) a Robin e Barry. Recentemente "Number One!" ha visto le presenze degli U2 e dei Bon Jovi.
I Gibb hanno inoltre concesso altre interviste in Inghilterra (Daily Mirror e Daily Telegraph), in Germania (Welt Am Sontag, Bunte, ZDF radio e Cable One), Australia (Sunrise), USA (saranno in seguito precisate) e Giappone (Nihon TV, Fugi TV, Music e Nikkei).
Secondo quanto dichiarato da Robin, Barry è arrivato il 28 ottobre in Inghilterra, dove resterà per quasi due settimane. I due Gibb concederanno altre interviste (giornali, radio e TV) proprio in questi giorni in cui anche Barry sarà in Inghilterra. Ulteriori dettagli su queste interviste ed altre iniziative di Robin e Barry saranno rese note quanto prima.
(Fonti: timesonline.uk , robingibb.com, google news )
---
Barry and Robin: TV and interviews to promote "Ultimate Bee Gees"
Barry and Robin Gibb have planned a series of television appearances (some live) and a series of interviews in conjunction with the release of the "Ultimate Bee Gees" collection, planned for the next 2 November. The last 24 October the sunday edition of the English newspaper "Times" (Sunday Times) has published an interview with two brothers. The interview (and a Bee Gees poll) is available on timesonline.uk
You begin on 31 October with the presence in the English popular broadcast  "Strictly as dancing" aired on BBC1 from 19.50 (GMT +1) . The show should be available through the site of the BBC iPlayer (http://www.bbc.co.uk/programmes/b00mbyy0) . Barry and Robin will sing live "You should be dancing".
Day 1 November, Gibb brothers will appear on the CBS during the "Sunday Morning" programme, that will provide a section dedicated to the Bee Gees, with an interview (pretaped) Barry and Robin.
3 November will be the time of two television interviews transmitted in England. The morning begins with English television ITV, channel GMTV (the interview is then available on the website of the television channel (http://www.gm.tv/).) During the afternoon SKY UK will pass an interview with the two Gibb. It is in both cases of pretaped interviews.
An appearance (this time live in TV) is planned on 17 November, when Robin and Barry perform ongoing very popular American television ABC show, "Dancing with the stars" .
On 18 November German television Kabel Eins will dedicate the popular transmission "Number One!" to the Bee Gees, and in the course of the show will be aired an interview (registered) with Robin and Barry. "Number One!" has recently dedicated to U2 and Bon Jovi.
The Gibb have also granted other interviews in England (Daily Mirror and Daily Telegraph), Germany (Welt Am Sontag, Bunte, radio ZDF and Cable One), Australia (Sunrise), USA (will be soon specified) and in Japan (Nihon TV, Fugi TV, Music and Nikkei).
As stated by Robin, Barry arrived on  28 October in England, where will remain for almost two weeks. The two Gibb will grant other interviews (newspapers, radio and TV) precisely in these days where Barry will be in England. Details about these interviews and other initiatives of Robin and Barry will be disclosed as soon as possible.
---------------------------------------------------------------------
"The Bee Gees: 50 years on - Robin and Barry Gibb talk about 50 years of the band, from tragedy to how they changed the world" (Rob Fitzpatrick, Times)
Robin and Barry Gibb are so overpoweringly familiar that just sitting opposite them feels odd. Robin, now 59 and still pencil-thin, is the sharper, the more protective of the two. Robin's the one you can imagine having an actual stand-up fight in defence of the Bee Gees' good name, while Barry, 63, seems rather more relaxed, beatific even, his snow-white hair artfully draped over his shoulders, a small smile never far from his lips.
The pair arrange themselves on the long black sofas at the back of Studio A at Hit Factory, in Miami, looking entirely at home. Of course, they should do - in the mid-1970s, Barry, Robin and their late brother, Maurice, pretty much moved in here to create some of the biggest-selling records of all time.
By that time, they had already enjoyed enormous success as a neo-psychedelic pop-rock group signed to the same management company as the Beatles. Then they had split. Then they had suffered three full years without a single hit. It's a long, long way from being in such a crushing slump that you're reduced to banging out gags between your oldies in a Yorkshire variety club to writing and recording a soundtrack album that sells in excess of 30m copies, but the Bee Gees made that journey in just three years.
The soundtrack to Saturday Night Fever made the Bee Gees as famous as it is possible for a human being to be. So famous, in fact, that they were easy to mock - Hair! Teeth! Chest wigs! - easy to make a joke out of. Yet 50 years after they began singing together at home in Manchester, a lot of their music still sounds utterly remarkable, whether it's the late-1960s hipster Bee Gees of albums such as Idea and Horizontal ("Oasis absolutely love that record," Robin says proudly), the global-superstar Bee Gees of Nights on Broadway, You Should Be Dancing and Jive Talkin', or the radio-eating, grown-up super-pop Bee Gees of How Deep Is Your Love or You Win Again. There is a reason that their catalogue of songs is one of the most profitable in pop history.
"It's taken us six years to come back from Maurice's death," Barry says. "His passing scattered everything to the wind. Robin drove himself on, but I couldn't find the passion, I couldn't force anything else out. I thought we were done."
"Ours is such a long story," says Robin, a glass of water in front of him. "But when we were young, the only risk was not taking the risk. We always knew we'd win it if we were in it..."
Products of a show-business home - their father, Hugh, was a band-leader who met their mother, Barbara, at one of his gigs - the Gibb brothers began singing together in cinemas while growing up in Manchester. In 1958, the family emigrated to Australia, and the three boys began performing professionally, playing pubs and speedways, singing on TV, even doing pantomime. Four years later, they would leave Australia by boat, spending three months working their passage to England. While on board, their single Spicks and Specks - their 13th stab at a hit - went to No 1 back home. The Bee Gees arrived in Southampton in February 1967 - three weeks later, they'd signed a five-year management deal with Robert Stigwood, the director of NEMS Enterprises, a company owned by the manager of the Beatles, Brian Epstein.
"We had a blind belief in ourselves," Robin says, laughing suddenly. "Luckily, we were also blind to the immense amount of competition there was."
"We were pretty bad then," Barry says. "But we were fearless."
Stigwood insisted on a group, so the brothers' Australian friends Vince Maloney and Colin Peterson were hired. They signed a deal with Polydor and delivered a huge hit, New York Mining Disaster 1941. The band's debut LP, Bee Gees 1st, was a critical and commercial smash. Wonderfully picturesque songs such as Harry Braff and Every Christian Lion-Hearted Man Will Show You pointed clearly towards a Britpop sound still 30 years in the future. Just teenagers, the brothers became part of the pop royalty of the day.
"We went to nightclubs like the Cromwellian and the Bag O' Nails," Robin says. "I liked the Speakeasy - when you went down the stairs, there was this coffin at the bottom. If you had your membership card, the wall would turn around and you went in."
"The Beatles and the Stones would sit around like kings," Barry says. "And we became part of that scene."
In 1969, the Bee Gees released the double-LP epic Odessa, an album so rich in fantastic songs and ideas - Melody Fair, "an Eleanor Rigby sort of thing", is brilliantly dramatic, while Whisper Whisper is surely the sharpest, most morally complex song ever written about a drug-dealer - that, 40 years later, it remains a remarkable document to free-spirited creativity.
"Odessa was our madness," Robin says. "We were recording in the studio the Beatles had been in, and we were unafraid to work with whatever came into our heads." Sadly, more progressive recordings were scaring off their fan base. Arguments followed and the brothers fell out. "There are periods even Robin and I don't talk about," Barry says. "That's one of them."
Between 1970 and 1975, the Bee Gees scored only a handful of hits. It was the opening track of 1975's Main Course record that pushed the brothers into a whole new stratosphere of fame and success. Jive Talkin' was an immediate, huge hit in America and Britain, as was the follow-up, Nights on Broadway, which featured Barry's crystalline falsetto. Their next album, Children of the World,went platinum, with You Should Be Dancing kicking off a string of hits.
The brothers were recording in France when Stigwood called to ask if they would be interested in creating the soundtrack to a new - as yet untitled - film. Six or seven songs should do it, he told them. Oh, and could they come up with a title for it?
"You never really know if something's a hit or not," Barry says. "Apart from Staying Alive. When we played it to George Martin really early on, he took two steps backwards and said, 'My God! I've never heard anything like it!'"
The film was 1977's Saturday Night Fever, and the album produced six No 1 hits. Night Fever was the Bee Gees' first UK No 1 for a decade. Soon, one out of every seven families in America would own a copy. "Fever introduced the most creative recording period in our lives," Barry says. "The following five years, we had a ball. We were the biggest thing around."
"This was the peak of record sales in all of history," Robin says. "Since 1967, there have only been three albums that have truly affected the culture, and that's Sgt Pepper, Fever and Thriller. There's not many people who know what that feels like. We're like the guys who've been to the moon."
"John Lennon said he wished he'd got a song like Fever," Barry says. "But we were under fire straight after. We became the people who had to be punished, so we gave our best songs to other people to secure our reputation as songwriters."
By the end of the 1970s, the Bee Gees were involved in a multi-million-dollar lawsuit with Stigwood, and they stopped recording as a group. Barry wrote Guilty for Barbra Streisand and Heartbreaker for Dionne Warwick, while the brothers came together to write Islands in the Stream for Kenny Rogers and Dolly Parton, as well as creating the startling Chain Reaction for Diana Ross. No new Bee Gees album would emerge until ESP - and the hit You Win Again - in 1987, their first UK No 1 for eight years. The 20th - and, to date, last - Bee Gees album, This Is Where I Came In, had definite echoes of their late-1960s pop-rock glories and was released in 2001.
"We've made some of the best records of all time," Robin says as a Japanese film crew prepares for his arrival next door. "And that's because we're not afraid of trying new things. We're only really afraid of losing an idea."
Would they like to start again? "God, no!" Robin laughs out loud. "Pop music used to be so much more gregarious, more flamboyant. Today, it's so conservative."
"We've had incredible happiness and incredible sadness in our lives," Barry says. "But we know there are songs we have written that will always touch people."
(Sources: timesonline.uk , robingibb.com, google news )

&nbsp
N.B.
- La possibilità di inserire commenti è
momentaneamente
disabilitata. Sarà ripristinata al più presto.