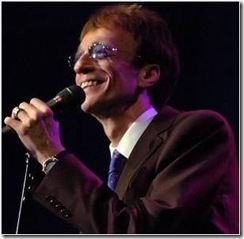 Robin Gibb ha suonato il 18 novembre a Douglas, Isola di Man, ed i proventi della serata sono stati devoluti all'ospizio per i bambini "Rebecca House", inaugurato proprio da Robin con la moglie Dwina il 14 novembre.
Nella giornata Robin ha ricevuto (per conto dei Bee Gees) un prestigioso riconoscimento alla carriera, ed ha cantato "Ellan Vannin", l'inno dell'Isola di Man, accompagnato dal King William's College Choir.
La canzone è stata registrata e sarà messa in vendita (CD e DVD) per beneficenza (sempre a favore dell'ospizio dei banbini dell'Isola di Man) in occasione delle festività natalizie.
Robin ha cantato numerosi successi suoi e dei Bee Gees, in un concerto intervallato da momenti informali e rilassati, durante i quali ha declamato con entusiasmo la bellezza dell'Isola.
Presente al concerto la madre Barbara (che il giorno prima aveva compiuto 88 anni), alla quale Robin ha dedicato "How deep is your love"
Barry, Robin e Maurice Gibb sono nati nell'isola, e Robin non nasconde il suo attaccamento al luogo della sua nascita, che ha definito "il più grande piccolo paese del mondo".
?Robin ha espresso il suo orgoglio per avere inaugurato "Rebecca House". "Dobbiamo supportare i bambini, specialmente quelli malati, ed è mia intenzione fare tutto quello che potrò per questo centro. Sono orgoglioso di essere nato nell'Isola di Man e di ritornare alla mia casa spirituale."
(Fonti: hospice.org.im e iomtoday.co.im )    
---
Robin live for charity in Douglas (Isle of Man) - 18 november 2008
"Robin Gibb reminds us why the Bee Gees rule" (John Gregory)
THERE was Tuesday night fever at the Villa when Bee Gee Robin Gibb performed hit after hit at a special charity concert for Rebecca House.
The very fact I knew every single song Robin and his great band performed was a testament to the fact that the Bee Gees were masters of the three-minute pop record.
The Gibb brothers – Robin, Barry and their late brother Maurice – together were a true hit-making machine, whether they were performing the songs themselves or writing for other people.
Robin's solo concert at the Villa was a great reminder of that. Not that the audience needed reminding, of course. There was plenty of dancing going on as the concert progressed and with 200 million record sales – and a catalogue second only to the Beatles in terms of success – it is hardly surprisingly these songs are so well known.
Robin made his way through classics such as Night Fever, How Can You Mend a Broken Heart?, Massachusetts, Words, To Love Somebody, You Win Again, Stayin' Alive, Jive Talkin' and many more.
His mum Barbara, who turned 88 the day before, was in the audience and he dedicated How Deep is Your Love to her.
She used to run the Union Mills post office and there is a plaque on the wall of the building commemorating the Bee Gees connection.
Robin also spoke about the influence his late father Hugh had on the brothers and said next time he performs in the Island he will bring Barry, who lives in Miami, with him!
The feel of the concert was quite intimate and informal – in between songs Robin spoke many times on how he was proud to be Manx and described the Island as 'the greatest little country in the world'.
In fact he spoke so much about it and is so passionate about the Isle of Man that he should be offered an honorary role with the Department of Tourism and Lesiure.
There was some banter with the audience too and the gig attracted fans from around the world. Psychiatrist Todd Jacob Gates and his wife travelled for two days from Clevland, Ohio, just to be there.
Also among the audience was a long-time friend of the brothers, Bernie Quayle, of Manx Radio.
The evening was started in fine style by Anna Goldsmith and her band. She opened with You Slayed All My Monsters and was in very fine voice indeed. Don't Wait Up was a particular highlight and it is one of Anna's most beautiful songs. The band finished with Come Together by The Beatles.
While the audience loved every second of the music, the real winners on the night were Oskar's Dreams who organised the concert for Rebecca House children's hospice which Robin officially opened on Friday. The charity is named after Oskar Craig who was just 18 months old when he died.
Oskar's father Heath told the Villa Marina that Oskar's Dreams – taking into account the money raised from the night – has now raised £250,000.
The Proud to be Manx concert was presented by the Henry Bloom Noble Trust in conjunction with Isle of Man Newspapers and sponsor Quinn Kneale.
Larry Keenan, chairman of the trust, explained about the history of it and the role of trustee Trudi Williamson – who is also deputy chairman of Isle of Man Newspapers – in putting on the concert.
Robin, who received a gift from Oskar's Dreams at the end of the night, was genuinely touched to be involved with the charity and Rebecca House.
Dot Tilbury and Geoff Corkish were the comperes for the evening and the whole night was a great success on many levels. It would have been a tragedy to miss it.
Robin and Dwina Gibb officially opened Rebecca House on Friday (14 november) in the presence of His Excellency Vice Admiral Sir Paul Haddacks KCB and Lady Haddacks.
Tribute was paid to the Henry Bloom Noble Healthcare Trust and Oskar's Dreams who, among others, have contributed to fundraising efforts in order that a children's hospice could be built on the Isle of Man. Rebecca House provides paediatric specialist palliative care and respite for children with life-limiting illnesses and conditions along with end of life care and bereavement support within Hospice Isle of Man.
Robin Gibb expressed his pride and delight at being asked to open Rebecca House: 'we need to support children, particularly sick children and it is my intention to do all I can to support Rebecca House and Hospice Isle of Man in the future. He continued:
'I am proud to be a Manxman and returning to my spiritual home.' Robin and Dwina spent some time with the children and parents at Rebecca House.
On 14 november Robin accepted a lifetime achievement award on behalf of the Bee Gees. As he took the stage, Robin was given a standing ovation and after receiving the award he performed a rousing rendition of Ellan Vannin with the King William's College choir. The CD/DVD of the song will be released around Christmas, and it will help to raise money for the IOM children hospice